ADC Alteon
What can Alteon load balancers do?
Alteon is the new generation of Radware load balancing equipment and is capable of ensuring quality of service (SLA) for the application. It provides advanced features for end users with web applications, cloud applications and mobile applications.
Load balancing device with best application delivery, market leading data SSL encryption performance, support for all the latest encryption protocols and advanced corporate services where application lifecycle management challenges that affect web application performance (eg too heavy, content complexity).
Alteon – SLA guarantee for the application
Radware Alteon load balancer manages SLA through real-time user transactions monitoring, visibility through reporting, and web optimization with Fastview.
Alteon provides load balancing for web, cloud, and mobile applications.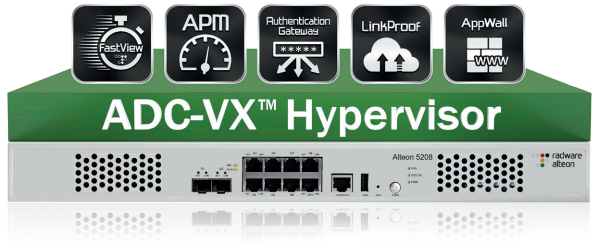 What makes the Alteon better than a conventional load balancer?
Alteon is an industrial load balancing solution built to ensure quality of service for your application. ALteon solution includes device-assigned advanced features such as Fastview – web application optimization (WPO), authentication, advanced denial of service attack prevention, ITM / bandwidth management as well as enhanced High capacity for SSL encryption and compression. Unlike traditional solutions with standards based best-effort approaches, next-generation load balancing solutions provide the full range of application SLA through reserve resources for each application. , allowing new services to be added without performance loss, real-time user monitoring, application acceleration and security.
Alteon is designed to ensure SLAs
Guarantee the application SLA
Load balancing with fault isolation, vADC virtualization for each service and application, allowing horizontal and vertical scaling when needed to maintain performance with ADC – VX, Alteon Virtual Appliance (VA), ALteon VA for NFV and Alteon VA for cloud environments.
Monitoring the application SLA
Real-time monitoring, proactively administering SLA and ensuring with application monitoring (APM) features without installing agents.
Optimize web performance
Speed up web pages for terminals and browsers by up to 40% with Fastview
Multi-tier security architecture
Network load balancing for applications and infrastructure against network attacks, accurate attack detection and DoS signaling, in the edge network or in the cloud via an attack mitigation system (AMS)