McAfee Device Control
Prevent unauthorized use of external storage devices.
Device Control Importance:
USB Devices, MP3 Players, CDs, DVDs and other entertainment devices, while very useful, also bring real threats to your organization. The small size and huge storage capacity make it easy for confidential customer data and intellectual property to be exposed and fall into the wrong hands through loss or theft. How do you know who is storing what on this type of device? And even if that person is allowed to use the data, how can you be sure they're securing it?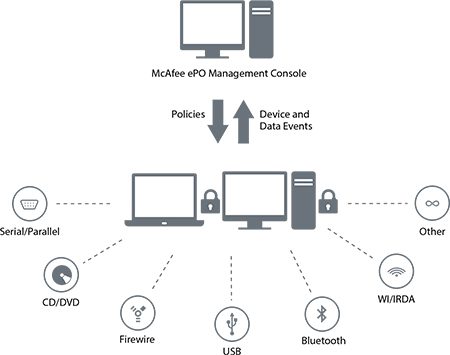 McAfee's Device Control Solution
McAfee® Device Control protects important data released outside your company via peripherals, such as USB drives, Apple iPods, Bluetooth devices, and recorded CDs and DVDs. It gives you the tools to monitor and control data transfer from all desktops and laptops, no matter where users and data are secure, even when they are not. connect to the Corporate Network.
The main features of the solution McAfee Device Control:
Absolute data protection: Specify hardware details and filter content, monitor and block confidential data on any external storage device.
Comprehensive device management: Allows safe use of peripherals, no need to block all affecting work performance
McAfee ePO centralized management platform: Security policy deployment and management center to prevent loss of confidential data via peripherals
Comprehensive monitoring: Internal demonstration and regulatory compliance with auditors, board members and other stakeholders
INFORMATION SOLUTIONS PROVIDER: