What is Web Isolation?
The IT department invests a large amount of resources to protect employees and assets from malicious activities. The most fundamental element of a network security solution is discovery. All solutions such as anti-virus / anti-malware software, Sandbox devices, NGFW, web application firewall are dependent on detection capabilities. In some cases, such as the Sandbox, malicious content warnings will be sent to the administrator after the user has received the content as it takes time for the device to confirm the threat. intimidation.
Threats detection via IOC and Signature is required to protect against known threats, but in the fight against new unidentified attacks / exploits it is not enough to rely solely on detection.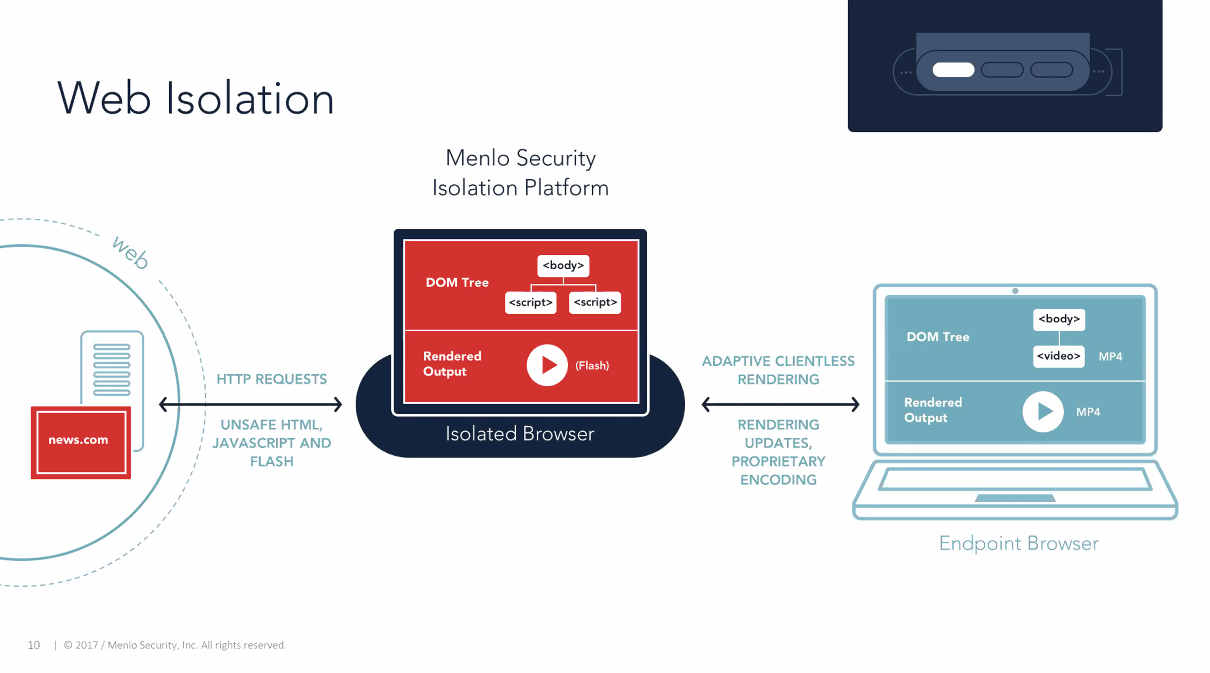 Web Isolation is a solution that doesn't need to impact users' workstations yet allows them to safely access the internet, on any device and any browser. Instead of relying on malware detection, Web Isolation solution protects the end user from network attacks by isolating / isolating malware and preventing it from reaching the browser. of the user. Typical is the ability to protect employees from accessing unclassified websites and high risk of infection.
Some features of the Web Isolation solution
Display the original web page's secure stream of images only on user's browser without having to download the entire web page to the browser.
Simulate browsing behavior on the browser like real web pages running directly in the browser.
Maintain the original web browsing experience with full usability and control.
Only safe display information is sent to the user's browser.
The Web Isolation Solution executes communication sessions with a web server away from the user workstation.
Ability to protect user workstations
As shown above, the Web Isolation solution implements remote communication sessions, only secure display information is sent to the user's browser. Therefore, Web Isolation can prevent malware from entering your network and devices. Web pages are displayed and isolated as graphics for display on the user's browser.
Some uses of web isolation solutions
Isolate web pages, emails, and documents so that no malicious content can reach the workstation.
Anti-malware and phishing.
Protection against controlled infection, malicious ads and ransomware.
Prevent C&C connections from malicious code and exploits.
INFORMATION ABOUT SOLUTION PROVIDER: