HOW DOES RIVERBED HELP BUSINESSES SOLVE PROBLEMS?
In this day and age, the optimization of the digital experience contributes greatly to the success of businesses. Riverbed provides a fully integrated and integrated platform that enhances digital experiences across every aspect of your business, improves time to market, increases productivity, or simply delivers a fast digital experience. and safe for today's users.
Riverbed's digital experience optimization platform helps customers transform the way cloud-based and network-based applications connect people, every business, and experiences in the modern digital world.
The ultimate digital experience platform that improves every aspect of your business.
In the cloud-mobile world, optimizing your digital experience determines the success of your business. That's why Riverbed provides a complete view – from end users, to networks, to infrastructure for applications – for improved performance and a competitive advantage. . Riverbed's portfolio of digital experience optimization solutions spans the entire business operations to optimize the applications and services that the business uses for digital experiences.
Cloud Network System
Simplify network management and provide instant, secure cloud connectivity with Riverbed industry-leading SD-WAN solution.
Digital Experience
Unify user experience, applications, and network visibility to proactively improve and optimize digital experiences for all users.
Cloud Edge
Centralized infrastructure to protect 100% of business data and significantly reduce operating costs.
Products
Riverbed helps you simplify, optimize, and structure your network and cloud-centered applications across the enterprise center. Riverbed's SD-WAN, WAN line optimization, performance management, and software solutions are all integrated into a single platform providing a comprehensive architecture to support digital transformation.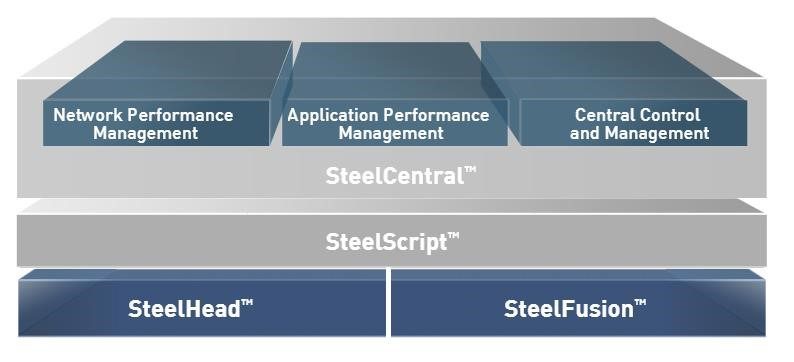 SteelCentral
Increase business efficiency for businesses with application comprehension capabilities.
Detailed application monitoring, from server to device, the ability to drill down into any component of your infrastructure with detailed insight.
​Find out more
SteelConnect
SD-WAN + Cloud Networking + Branch LAN / WLAN
Fast, flexible, and secure application guaranteed through the Hybrid architecture.
​Find out more
SteelFusion
How to build a better branch office? (Like smartphones)
Centralized and secure management of branch-based applications, data center data, and scaling of services, resilience, and security to branches.
​Find out more
SteelHead
Boost performance with comprehensive network performance optimization
Up to 100x improved performance and maximum bandwidth savings through optimized transmission of applications across a hybrid WAN environment, to users everywhere.
​Find out more
Solutions
Riverbed gives you enterprise-wide insights to drive innovation, lower the costs of your business, and increase productivity at every level.

Microsoft Office 365
Provides the best user experience across networks, locations, and devices.
Cloud computing solutions for Branches
A groundbreaking solution to transform IT branch offices for the first cloud-computing era.
VIETNET Distribution JSC is currently a distributor of Riverbed in Vietnam. VIETNET and Riverbed provide you with enterprise-wide insights to drive innovation, reduce the cost of your business, and increase productivity at every level.
Copyright ©2016 Riverbed Technology. All rights reserved.