19 / 04 / 2023, Ho Chi Minh City – Vietnet Distribution JSC will hold an event to announce the official distributor of Trend Micro – a global technology leader that specializes in cybersecurity solutions in the Vietnamese market.
With a professional team, comprehensive customer insights, and an extensive knowledge of technology trends, Vietnet Distribution JSC has been entrusted and appointed as the official distributor of Trend Micro in Vietnam. Moreover, with a distribution channel system focusing on information assurance and security, Vietnet is a key strategic partner of Trend Micro in providing security solutions for agencies, organizations, enterprises, and other customers.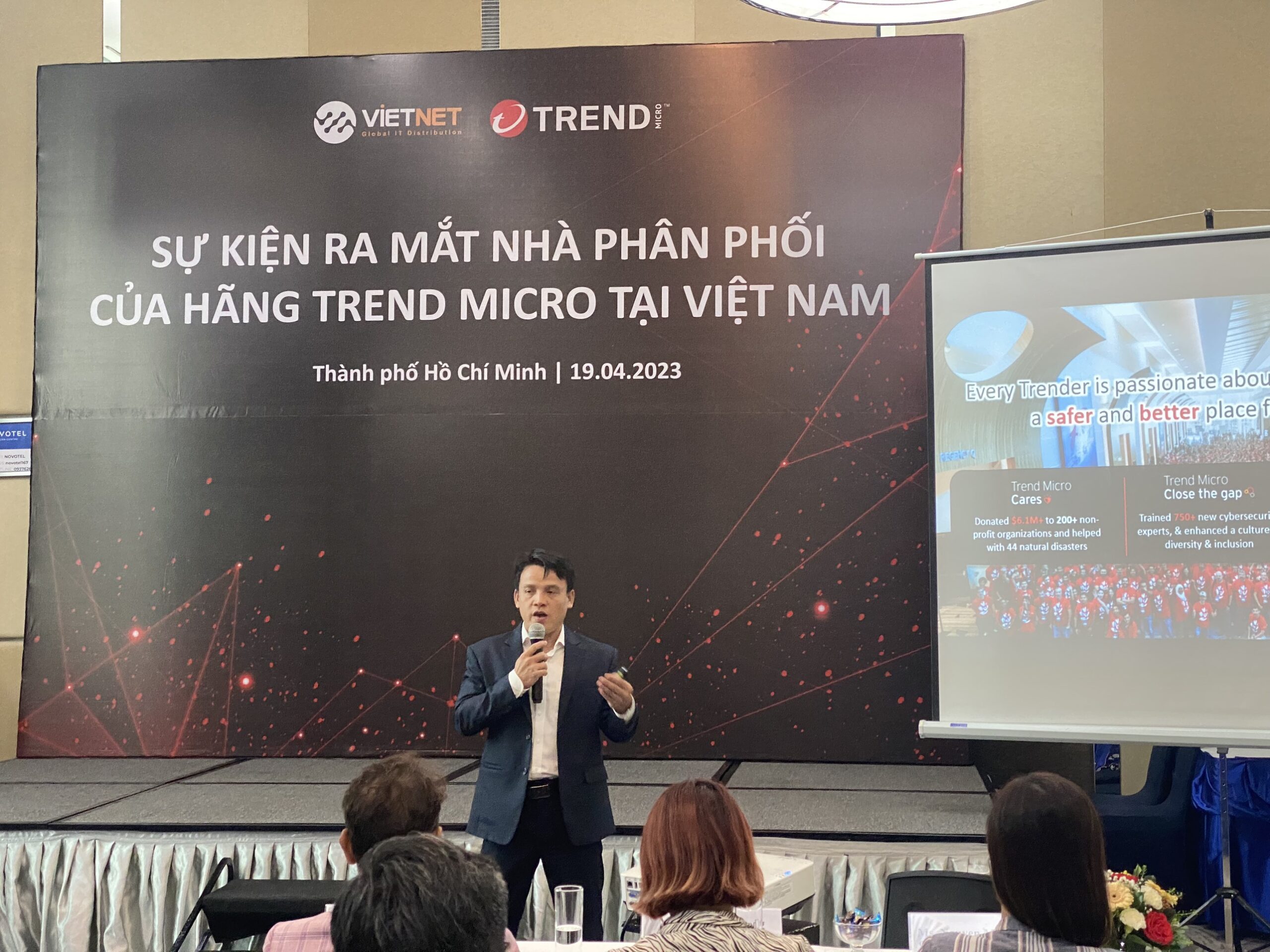 As the official distributor, Vietnet will distribute all Trend Micro products and accompanying service packages, as well as official consulting, support, and after-sales policies for customers.
The information technology industry in Vietnam is experiencing exponential growth, and Vietnam is currently a promising market in the region. Becoming the official distributor of Trend Micro will increase Vietnet's competitiveness and bring many benefits in security solutions that Vietnet and Trend Micro provide to their partners.
Mr. Le Tuan Dat – CEO of Vietnet Distribution JSC shared: "With all the outstanding benefits and reasonable costs, Trend Micro security solutions will certainly be widely known by customers and the market. As for Vietnet, we have complete confidence in our abilities and human resources – young, dynamic, and experienced. We hope that this cooperation will bring even more value to the information technology community in general and the information security field in particular."
At this launch event, Trend Micro wants to introduce its latest improved technology solutions: Cloud One, Network One, Workforce One and Vision One.
Cloud One
Trend Micro Cloud One is a security services platform for organizations with implemented cloud services, providing comprehensive security services in one solution package. This platform enables businesses to efficiently secure their cloud infrastructure. Trend Micro Cloud One provides businesses with the flexibility to address current challenges and advance with cloud services in the future.
Network One
To help customers deal with sophisticated attacks, Trend Micro introduces a comprehensive solution set for the Network One network system, consisting of two independent components:
– Detection component: based on the Deep Discovery product suite, designed to detect new malware in targeted attacks, data-encrypting malware, and simultaneously share threat information with Trend Micro security products deployed in the same system as well as third-party products.
– Network-level blocking component: helps prevent security vulnerabilities exploitation, even if these vulnerabilities have not been officially discovered. Protection is performed in real-time with a simplified operation based on the highly renowned Trend Micro TippingPoint product line.
Workforce One
Trend Micro Smart Protection Complete simplifies data security in today's complex environment by integrating data loss prevention (DLP), encryption, web protection against harmful attacks, and protection for applications on endpoint devices. This solution set helps businesses reduce costs and efforts in deployment and management while still achieving data security levels according to company policies.
Vision One
Trend Micro Vision One is a threat defense platform built to provide additional value and benefits beyond traditional XDR solutions. Vision One provides extended detection and response (XDR), while collecting and automatically correlating data across multiple security layers (email, endpoint, server, cloud, and network). Trend Micro Vision One prevents most attacks through automatic protection features. Sensors and integrated XDR protection solutions quickly detect complex attacks that can bypass protection layers. The visibility provided by Trend Micro Vision One allows security teams to operate more productively and efficiently. This provides unprecedented insights into operational data in the organization's environment and balances between security solutions.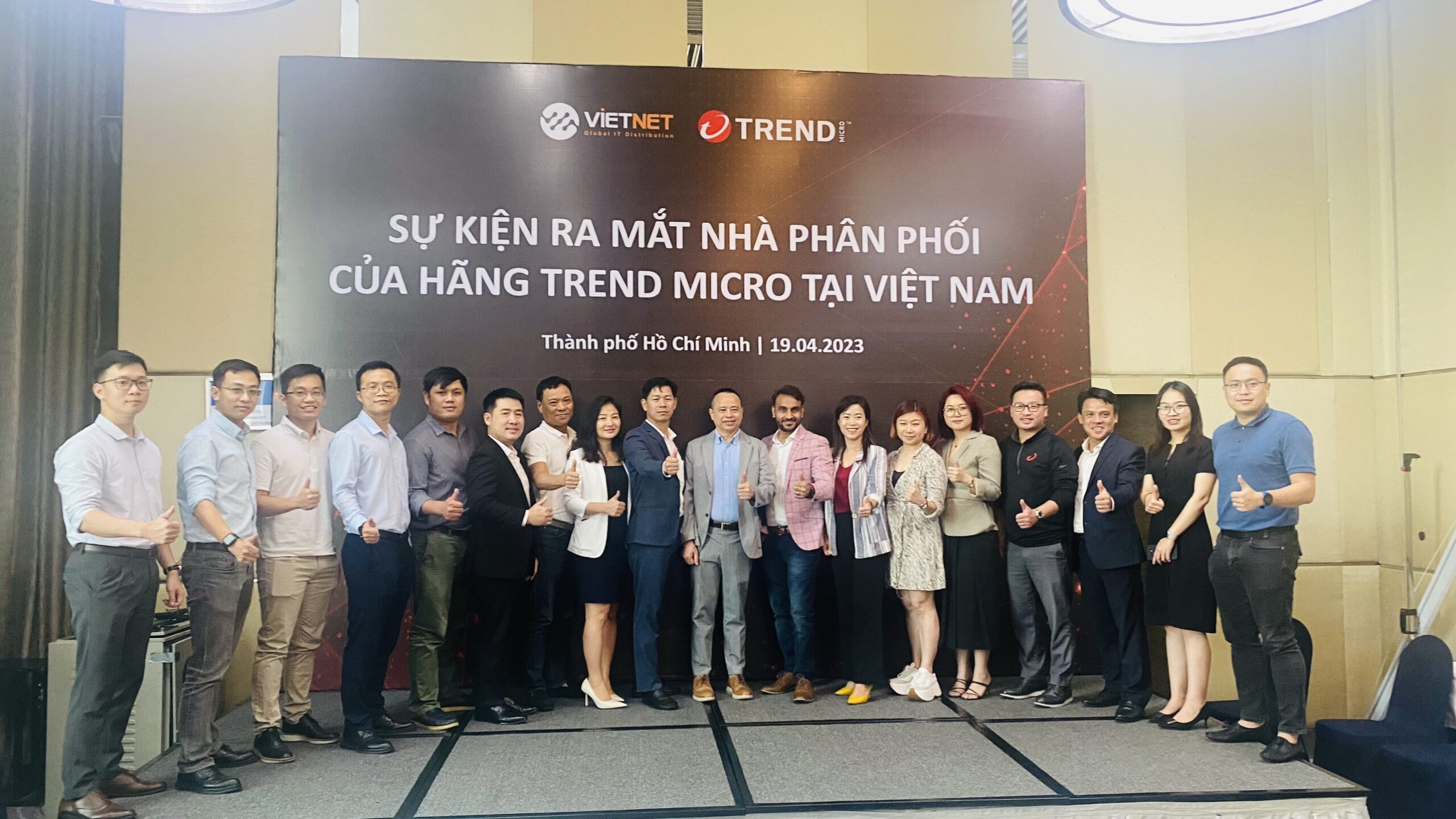 Information about TREND MICRO:
Trend Micro is a global cybersecurity company headquartered in Tokyo, Japan, and a trusted partner of many businesses. With 7,000 employees working in 65 countries, Trend Micro helps organizations simplify and secure their connected world.
With over 30 years of experience, Trend Micro is a world-leading brand in the field of security and a pioneer in applying cloud-based protection technology to network security and virtualized infrastructure. Trend Micro has relentlessly worked to create a secure digital information exchange environment for over 500,000 businesses and 250 million consumers.
For more information about Trend Micro's products and services, please visit https://www.trendmicro.com/
Information about Vietnet Distribution JSC:
Vietnet Distribution JSC was established in 2011. Vietnet is a professional distributor for many leading technology companies in the world with a team of well-trained personnel and a scientifically organized company. In recent years, Vietnet has grown strongly and sustainably with a focus on valuing its employees. Vietnet has built its reputation as a reputable Distributor, recognized by the market, and highly appreciated by many technology companies, especially in the field of information security.
In addition to the headquarters in Ho Chi Minh City (Vietnam), the company has offices in Hanoi (Vietnam), Phnom Penh (Cambodia), Singapore (Singapore), Kuala Lumpur and Penang (Malaysia), and sales representatives in some countries in the ASEAN region.
For more information about Vietnet Distribution JSC's products and services, please visit www.vietnetco.vn
Contact Information:
Vietnet Distribution JSC
8th Floor, ITAXA Building, 126 Nguyen Thi Minh Khai, Vo Thi Sau Ward, District 3, HCMC
Telephone: +84 28 7300 4400
Website : www.vietnetco.vn   |     Email : sales@vietnetco.vn    |     Hotline : 1900 – 6736